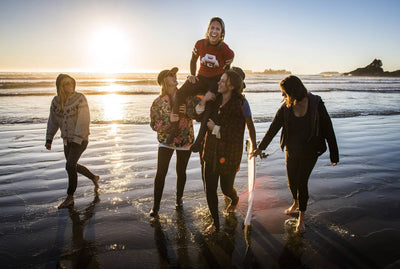 When I think of Hanna I think dedication and tenacity. She knows what she wants, knows what it takes and is willing to work for it. Through this, Hanna has become a strong competitor, amazing free surfer and a darn right nice person to be around in or out of the water. She takes it all seriously, smiling the whole way.
Hanna is always on the move. If she isn't outrunning long Canadian winters in the tropics of Indonesia or escaping to the remote beaches of New Zealand, she is running down to Cali and Mexico. With all this travel comes variety and with variety comes solid feedback that helps us improve design and develop new shapes.  
"I love to surf because it's unlike anything else. It's a really amazing feeling to be able to connect with the ocean and nature anywhere in the world in the way of riding waves. No wave or day is ever the same, I think that is partly what makes it so special. It teaches you patience and to respect the ocean. 
I'm really grateful to have something that brings a lifetime of learning."
BOARDS: Hannah's favourite boards are The Sled, and The One.
BRANDS: Aftanas Surfboards, Vans, Patagonia, Storm Surf Shop
---