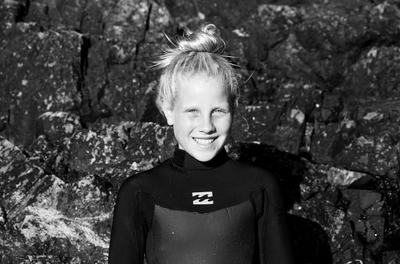 Sanoa Olin is the youngest female surfer to ever win the Tofino Rip Curl Pro. At age 12 she took down other experienced surfers who had twice her time on a board. Sanoa's commitment to catching waves and working hard in the water has caught the attention from Canadians and those south of the boarder alike.
Why I love to Surf
"The feeling I get when I stick a good turn, or learn a good move, is the best feeling in the world. There is nothing better than waking up and going surfing in the cold waters of the Pacific North West. Our waters are so clean and I feel so alive when I'm submerged in them. I also love the connection I have to the ocean and the people out there; everyone's sharing their passion and their love and joy for surfing."
Why I ride Aftanas
"My first shortboard was an Aftanas. As I started to learn what I like and what I don't like, Stefan would help me understand the boards better. He'd make time for me to come by so he could help me with shape, size, etc. After a while he knew my style, how I surf, and what boards I liked; he understood what I was looking for in my boards."
BOARDS: Sanoa's favourite board is the Project.
BRANDS: Aftanas Surfboards, Billabong, Live to Surf, Shelter, Ocean Village
---